Essential Precautions for Personal & Family Safety
When moving during the COVID-19 outbreak, it's important to follow the recommended guidelines on social distancing, washing hands, and others, to ensure you & your entire family remain safe and healthy at the end of the move.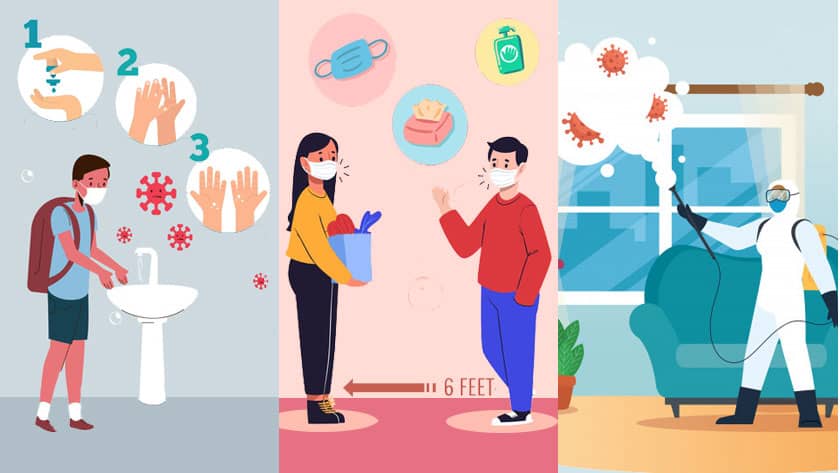 Safety Tip #1: Stock Up on Hygiene Products & Maintain Social Distancing
If there's one good thing the Coronavirus pandemic has taught us, it's to maintain good hygiene at all times, inside as well as outside your home.
So, stock up on sanitization products for moving day, which can be made available to your movers as well:
Hand sanitizers (at least 60% alcohol);
Soap & Water;
Sanitizing sprays;
Disinfectants;
Face masks;
Gloves;
Thermometer gun;
Disposable hand towels & tissues;
It's also important to not only ensure our own safety but also the safety of others by maintaining a safe distance of 6-feet when we step out of our homes and while interacting with outsiders.
So, make sure that you follow the social distancing rules when movers arrive at your home for packing & moving.
Safety Tip #2: Wash Hands Regularly and Avoid Touching Your Face
We all know by now that the COVID-19 causing virus can live on different surfaces for a long time (between few hours to few days), and spreads via touch, i.e., you can contract it if you touch your face (especially, eyes, nose, or ears) after touching any surface.
To avoid this, remember to always WASH YOUR HANDS at regular intervals, and no matter what happens, NEVER TOUCH YOUR FACE, especially after touching anything.
If soap and water are not immediately available, make sure you use a sanitizer as a temporary safety measure.
Tip: Set a reminder on your phone or put up a sticky note, so you don't forget to wash hands during the move. Also, remind your movers to wash their hands every few minutes or before they move on to the next task.
Safety Tip #3: Find Out Which Zone Your Current and New Locality Falls In
It's eminent to check the current status of case density in both your localities, especially since most of the country is unlocking, and the number of cases are on the rise.
Make sure that your current place of residence as well as the one you will be moving into is neither inside nor is close by to a containment zone. It would be best to postpone relocation if any one of your places falls in a red/orange zone.
You should also find out the rules and regulations for moving in and out of your apartment society, like timings, the number of people allowed entry, etc.
Safety Tip #4: Let Only 1 Person Manage the Entire Move
Since the main cause of virus spread is through physical contact, the most effective way of reducing the probability of exposure is to make sure that only 1 person from your family is coordinating the move.
Limiting the number of family members present at home during the move will help minimize contact and lower the risk factors for all the people involved.
Safety Tip #5: Limit Exposure of Kids and Elderly
The highest level of precaution should be taken for kids (below 10 years) and elderly people (aged above 60), who are most prone to the virus because of their weak immune systems.
So, make sure they are either sent away to a relative's or friend's place to limit their exposure when movers arrive on moving day or let them stay in a separate room, away from the place of action.